Delivery
Your box of happiness will be shipped in 2-4 business days.
Cash on delivery available order above ₹499
100% recyclable packaging
10 Days Return Policy
Use code FIT500 & get extra Rs.500 off on orders above Rs.1,499
Use code KIND200 & get Rs.200 off on orders above Rs.1,299.
Details
Bloating can make you look and feel bad even on a good day. Unfortunately, it is difficult to avoid it completely. A sedentary lifestyle, irregular sleep timings and eating habits, and stress can all contribute to you feeling uncomfortably full after a meal. Having a microbiome out of balance doesn't help. You need the right bacteria to help your gut digest foods better without producing too much gas. Bye Bye Bloat Probiotic SuperGut Sticks have been specially formulated with good bacteria and prebiotics to give your gut the support it needs to prevent bloating and keep your digestive system running smoothly.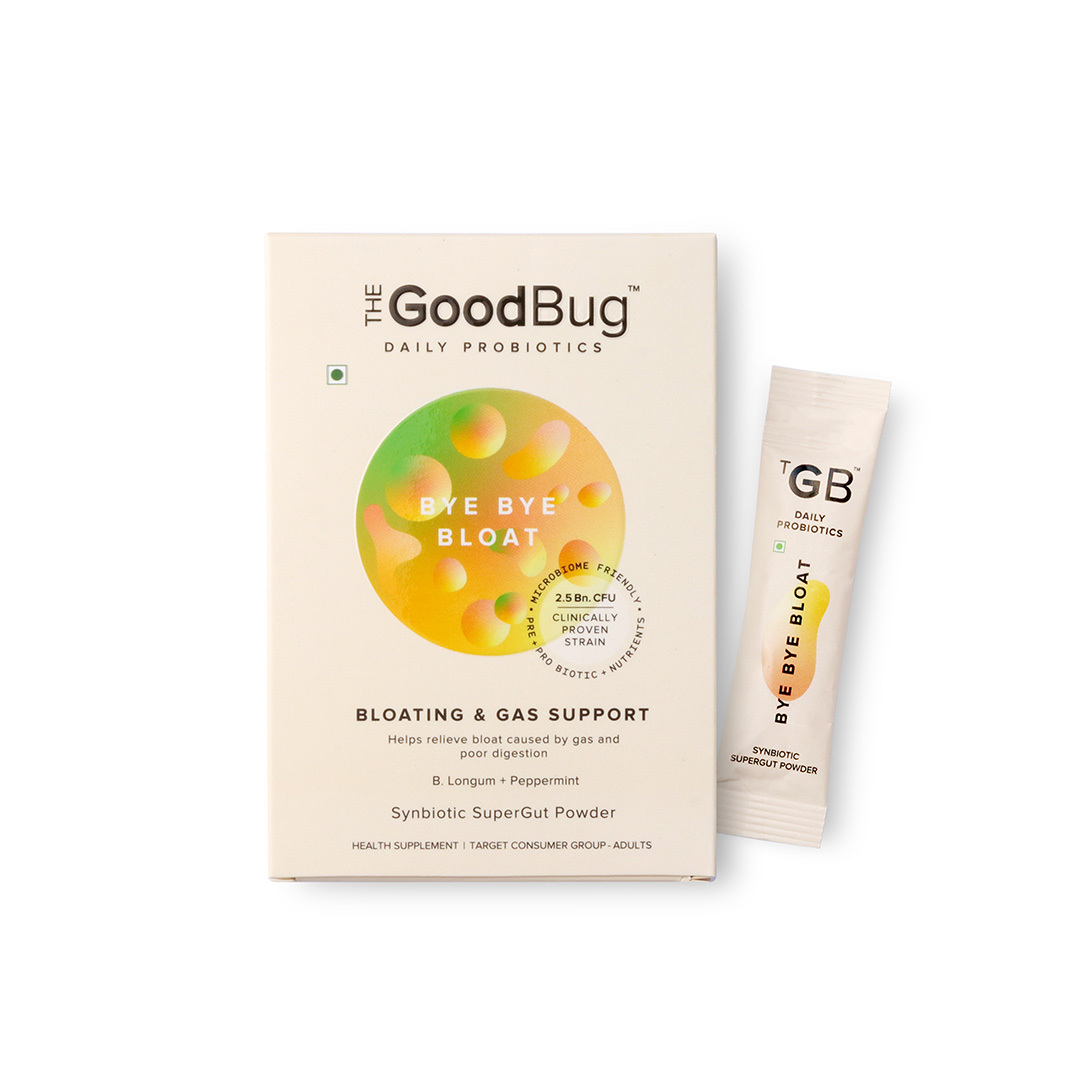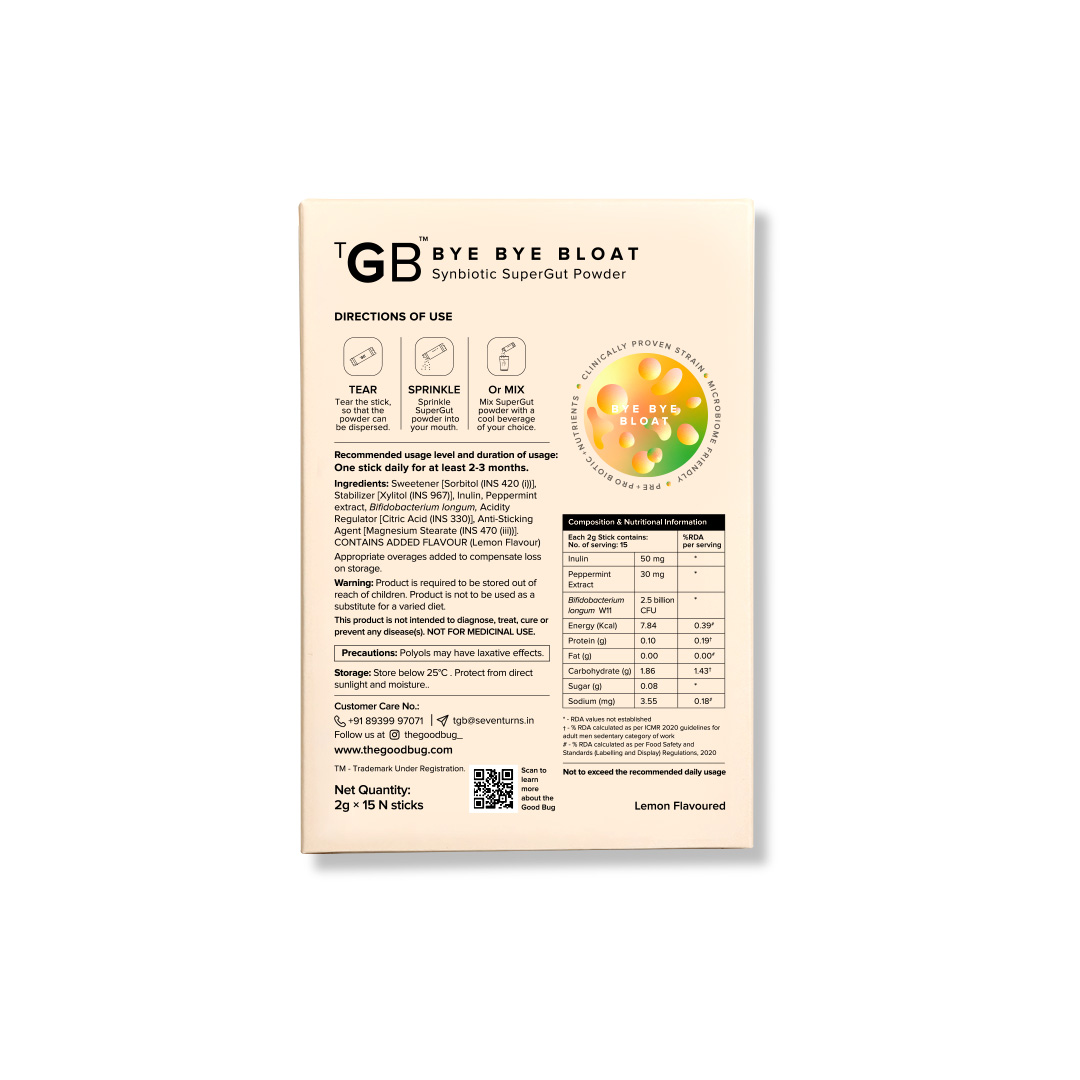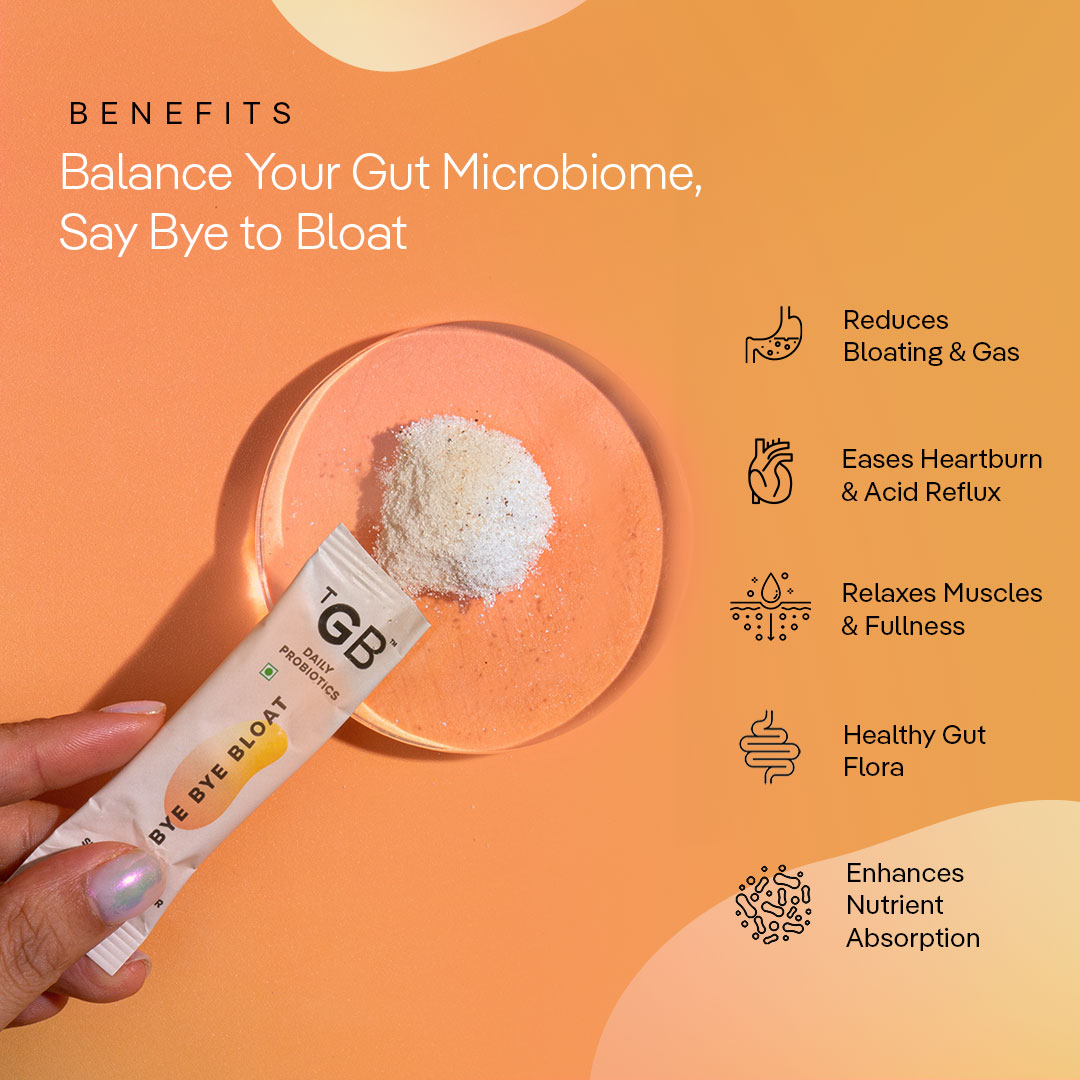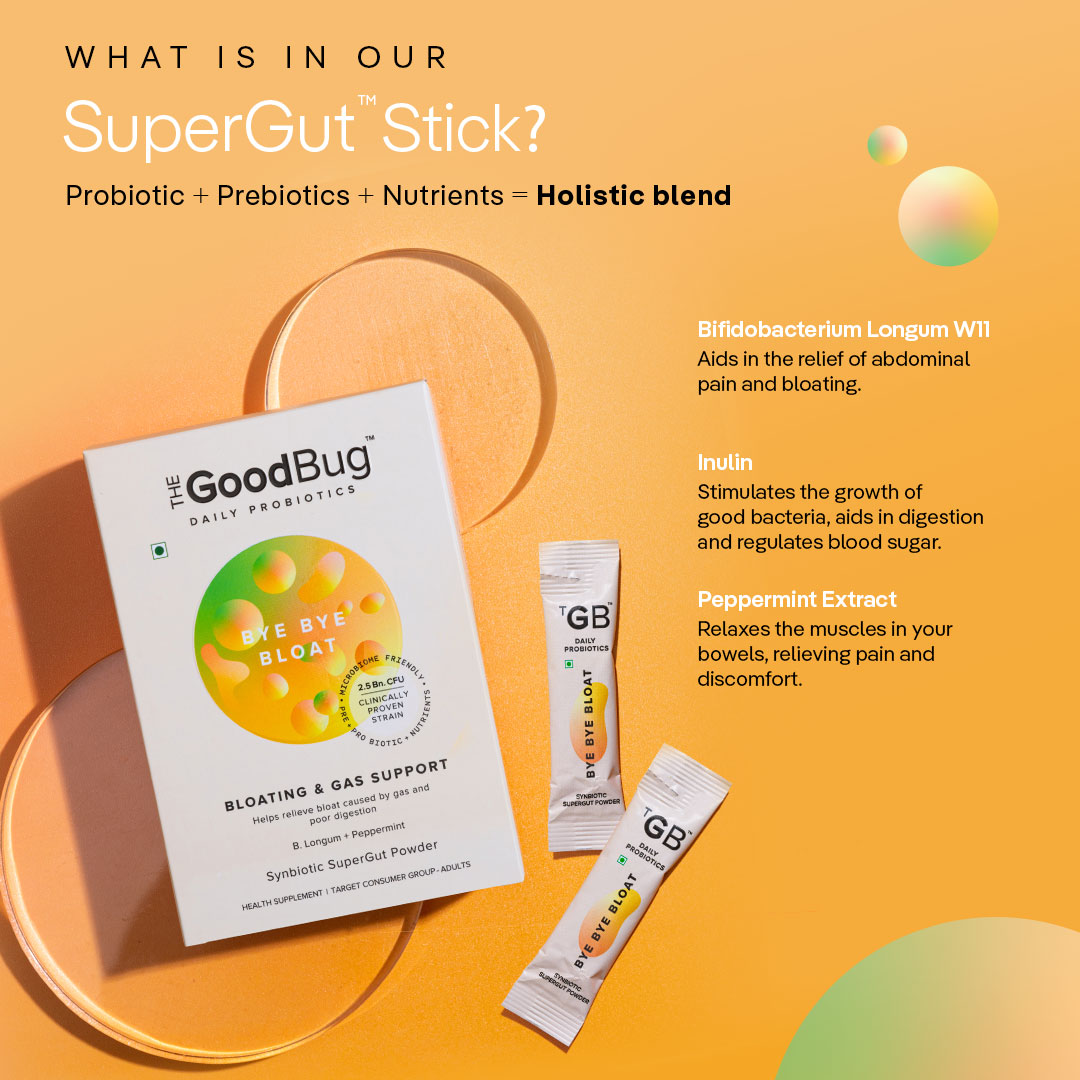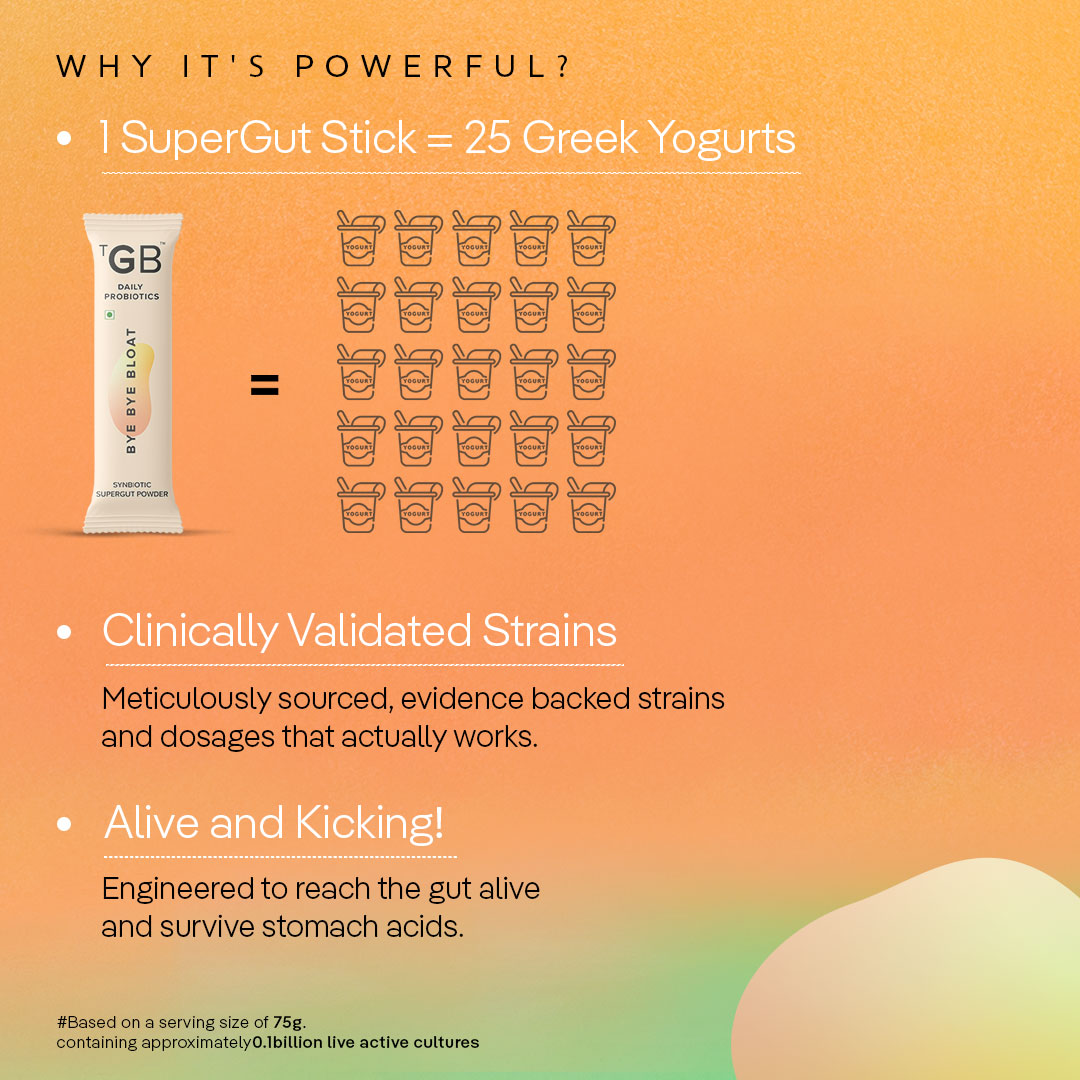 Read More
How to use
Tear sachet and directly pour in the mouth and gulp or mix in water and drink.
Features
Key Ingredients:
Bifidobacterium Longum W11

Inulin

Peppermint Extract
For Concerns:
Digestive Wellness

General Wellness
Ingredients:
Sorbitol Powder (Ins 420 (i)), Xylitol 300 (Ins 967), Inulin, Peppermint Extract, Bifidobacterium longum w11, Magnesium Stearate (Ins 470 (iii)), Citric Acid (Ins 330), CONTAINS ADDED FLAVOUR LEMON FLAVOUR.
kindcode
Confused about what's kind on, in and around your body? We're here to decode some key terms and what it means when a brand declares them! If a brand doesn't have at least one of these codes, they won't be listed on kindlife! Know more
:
kindcode
Cruelty Free

"Cruelty-Free" is a PETA provided certification to brands which do not conduct product tests on animals prior to sales. Considering the vulnerability of animals and their lack of ability to give consent doesn't make it ethical to test products meant for human use on them. Hence products that are natural or plant based could be cruelty free only if they have not been tested on animals.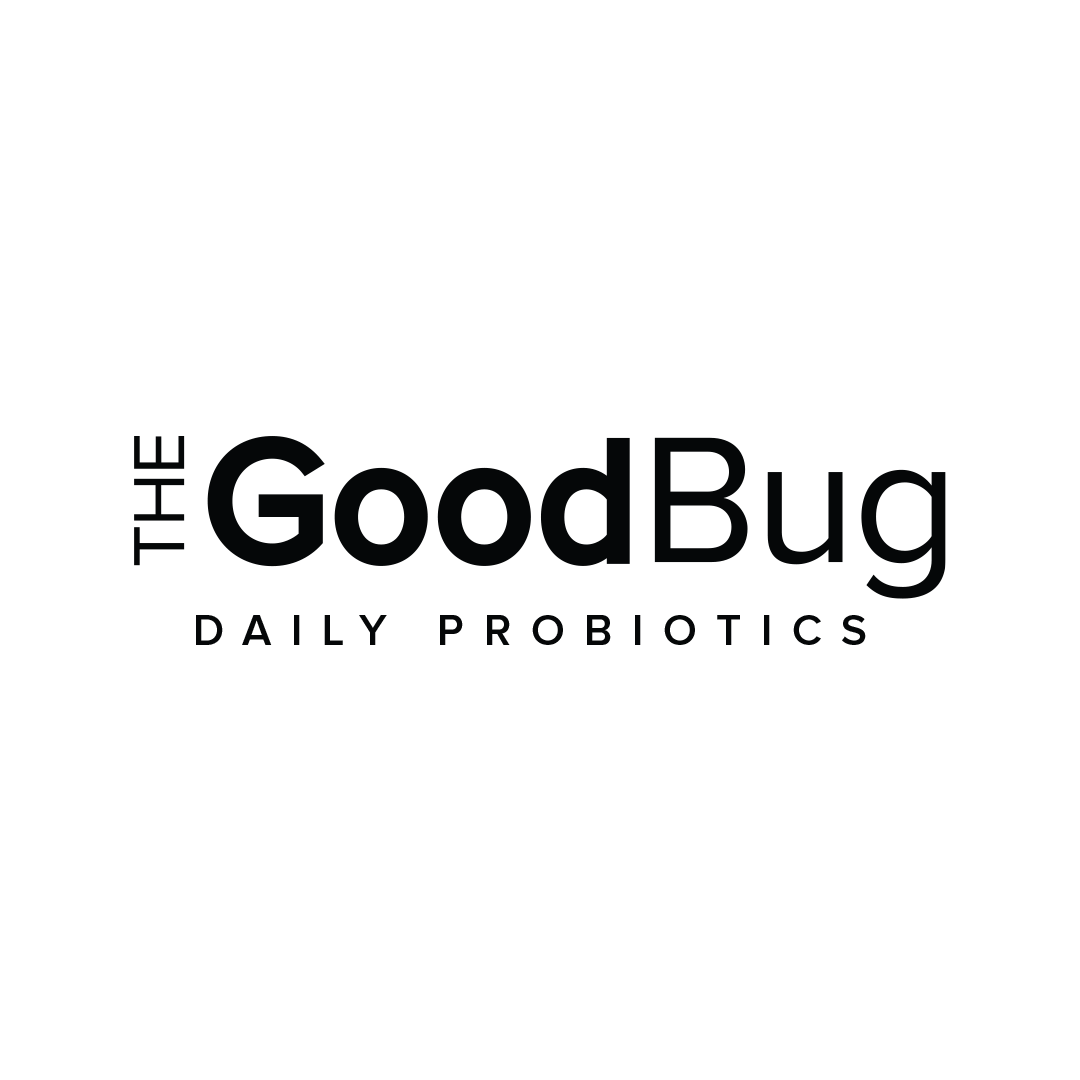 The Good Bug
The Good Bug is a science-backed range of probiotics in the form of mouth-melting and water-soluble powders for Adults & Kids aiming to improve overall core health gut health and daily wellness They have a variety of daily supplements for everyone in the family The range of formulations addresses
Shop the Brand