Delivery
Your box of happiness will be shipped in 2-4 business days.
Cash on delivery available order above ₹499
100% recyclable packaging
10 Days Return Policy
Use code KIND200 & get Rs.200 off on orders above Rs.1,299.
Use code
BEAUTY50
& get FLAT 50% off on orders above 1,499 on select beauty products.
Details
Stress, pollution & unhealthy lifestyle choices can lead to many hair troubles like hair fall, breakage, and thinning. Indulgeo Essentials Hair Growth Combo together helps to stop hair damage and nourish them deeply to repair and minimize hair fall and boosts hair growth. This premium combo consists of Indulgeo Essentials Luxuriant Hair Vitalizer and Growth Promoter that strengthens your hair follicles and gives volume to the hair. LUXURIANT HAIR VITALIZER It is an exotic mix of essential oils like Rosemary, Lavender, Tulsi, Ginger root and various other rare dry oils infused in purified water and witch hazel. Clinically-proven and highly effective, this product also significantly improves volume, texture and overall health of the hair. Whatâs more.This oasis of organics has no side-effects and is also non-oily!

GROWTH PROMOTER
Growth Promoter is a non-oily formula with goodness of nature and no harsh chemicals. A gentle product which improves volume, texture and overall health of the hair, it helps in making the roots stronger and promoting the new hair growth. It disinfects the scalp and prevents dandruff.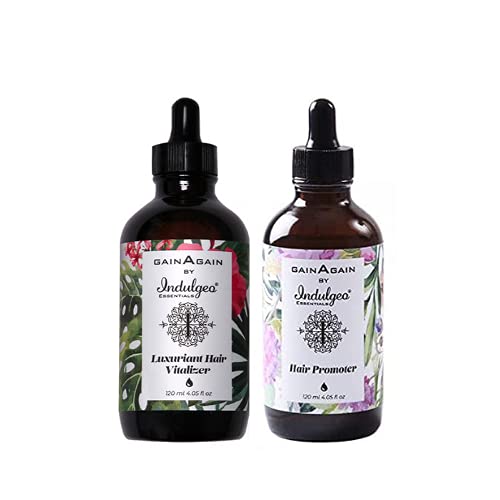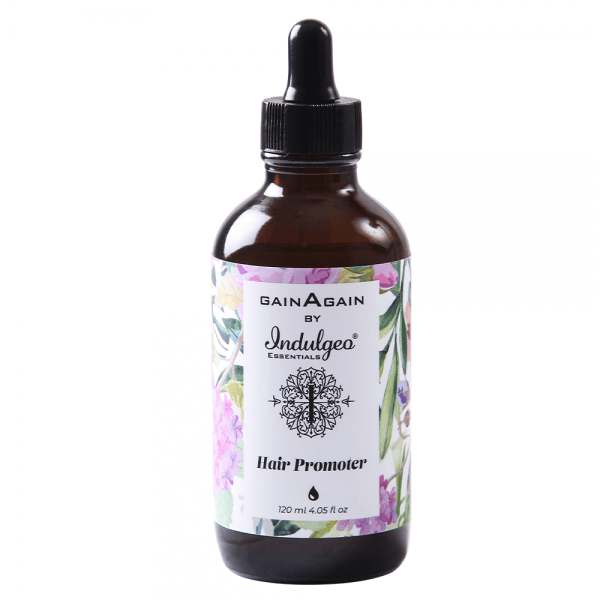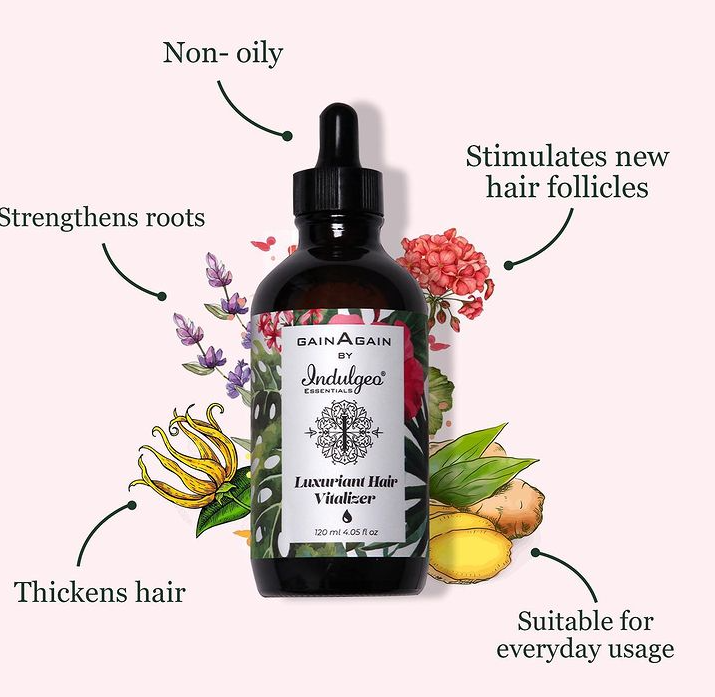 Read More
How to use
Use hair growth promoter on the scalp after washing, on partly wet hair.Take approximately 2-3ml of promoter per application and massage it gently into the scalp. Use 2-4ml of Gain Again Luxuriant Hair Vitalizer with the dropper on a clean scalp every day
Features
Brand:
Indulgeo Essentials
Key Ingredients:
Geranium Oil

Jojoba Oil

Lavender Oil

Rosemary Oil
Ingredients:
Rosemary oil, Lavender oil, Jojoba oil, Geranium oil, Ylang Ylang oil, Ginger root oil, Onion Seed oil, Clary sage oil, Tulsi extract, Neem extract, Blend of plant extracts, Distilled lotus extract and Witch hazel
kindcode
Confused about what's kind on, in and around your body? We're here to decode some key terms and what it means when a brand declares them! If a brand doesn't have at least one of these codes, they won't be listed on kindlife! Know more
:
Additional Information
Expiry or Best Before:
18
months after manufacture date
Reviews
5.0
kindcode
Cruelty Free

"Cruelty-Free" is a PETA provided certification to brands which do not conduct product tests on animals prior to sales. Considering the vulnerability of animals and their lack of ability to give consent doesn't make it ethical to test products meant for human use on them. Hence products that are natural or plant based could be cruelty free only if they have not been tested on animals.

Toxin Free

Toxin free products indicate that the ingredients used in it do not exist in amounts that are known or proven to be harmful and affect the consumer negatively. It does not always mean that there are no chemicals in it.

Indulgeo Essentials
Indulgeo Essentials is a profound endeavor using the wisdom of nature to deliver custom made concoctions suitable for a plethora of skin & hair types and concerns Their brand name originated from Latin- meaning "to gratify oneself & indulge in" They bring to you truly natural essential oil blends
Shop the Brand