Details
Exclaim UFF! After cleansing your face with the Indulgeo Essentials UFF! Detox dry facial cleanser. Transform your skin with this immensely silky and fine dry cleanser that is perfect for everyday radiance. This advanced, specially formulated nature powered product is a low-irritant that cleanses and resurfaces the skin, without stripping off the natural oils making you glow from within. Power packed ingredients like Matcha, Hibiscus,Neem and Grapefruit brighten, decongest and purify the skin while providing anti-ageing benefits and reducing blemishes for an even toned skin. This powder dry facial cleanser activates into a micro-fine lather when amalgamated with water and releases enriching nutrients and antioxidants essential for your skin. The power is in your hands to increase or decrease the exfoliation intensity by adding water as per your skinâs requirements, making it an exceptionally versatile and effective product that eliminates additional skincare routine steps. Capture the true essence and benefits of all the ingredients as there are no pre-added dilutors or harsh abrasives. Coalesce UFF! in your daily cleansing routine to feel your skin oh-so-soft, smooth, and restored.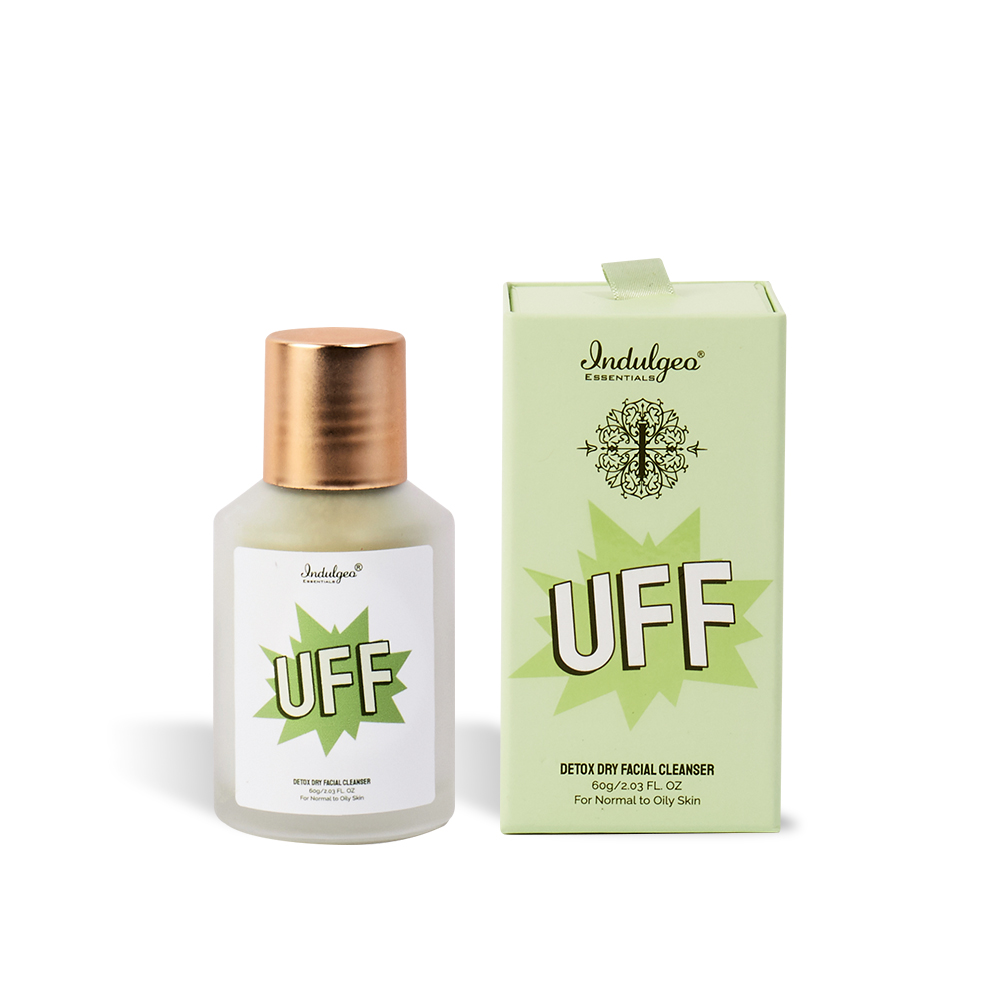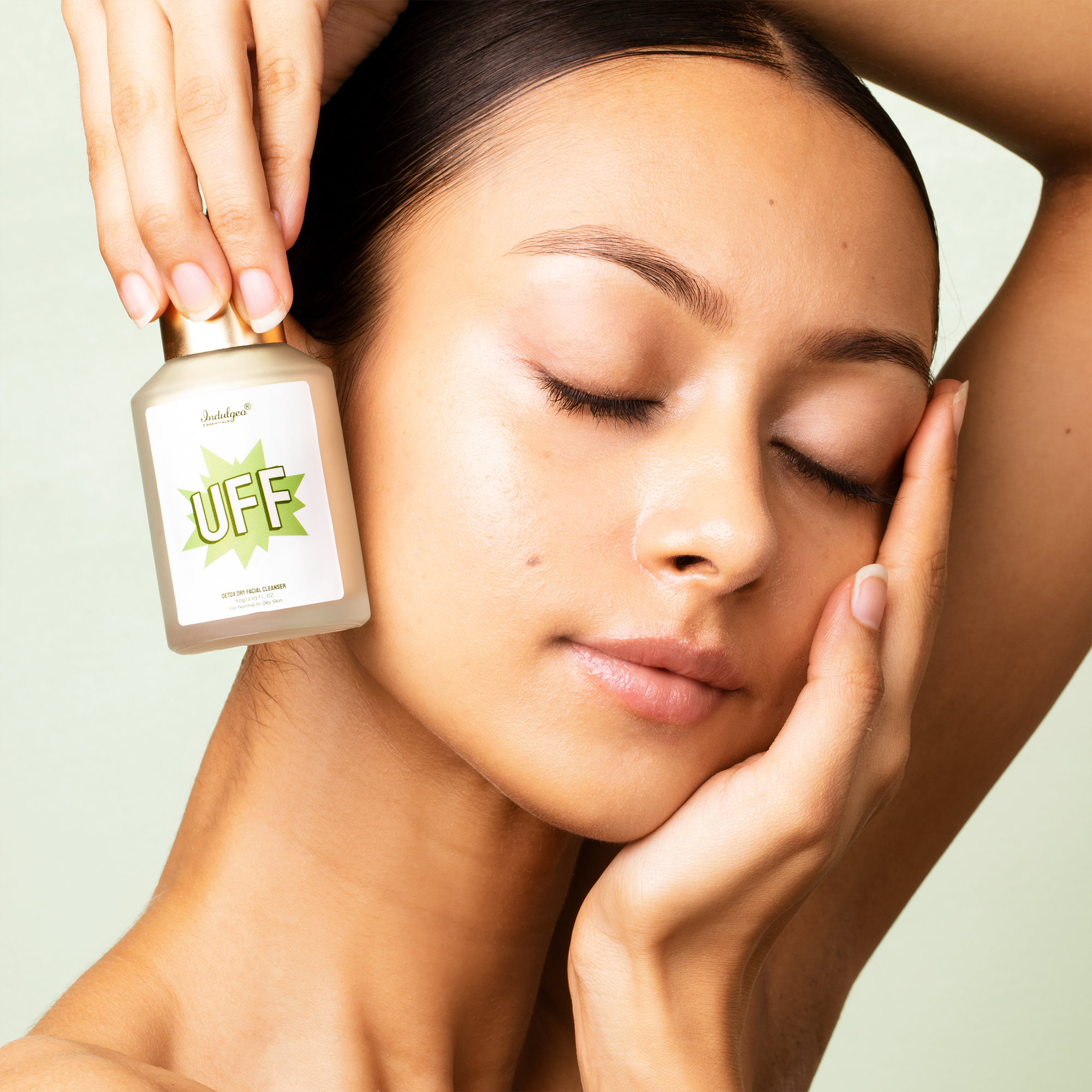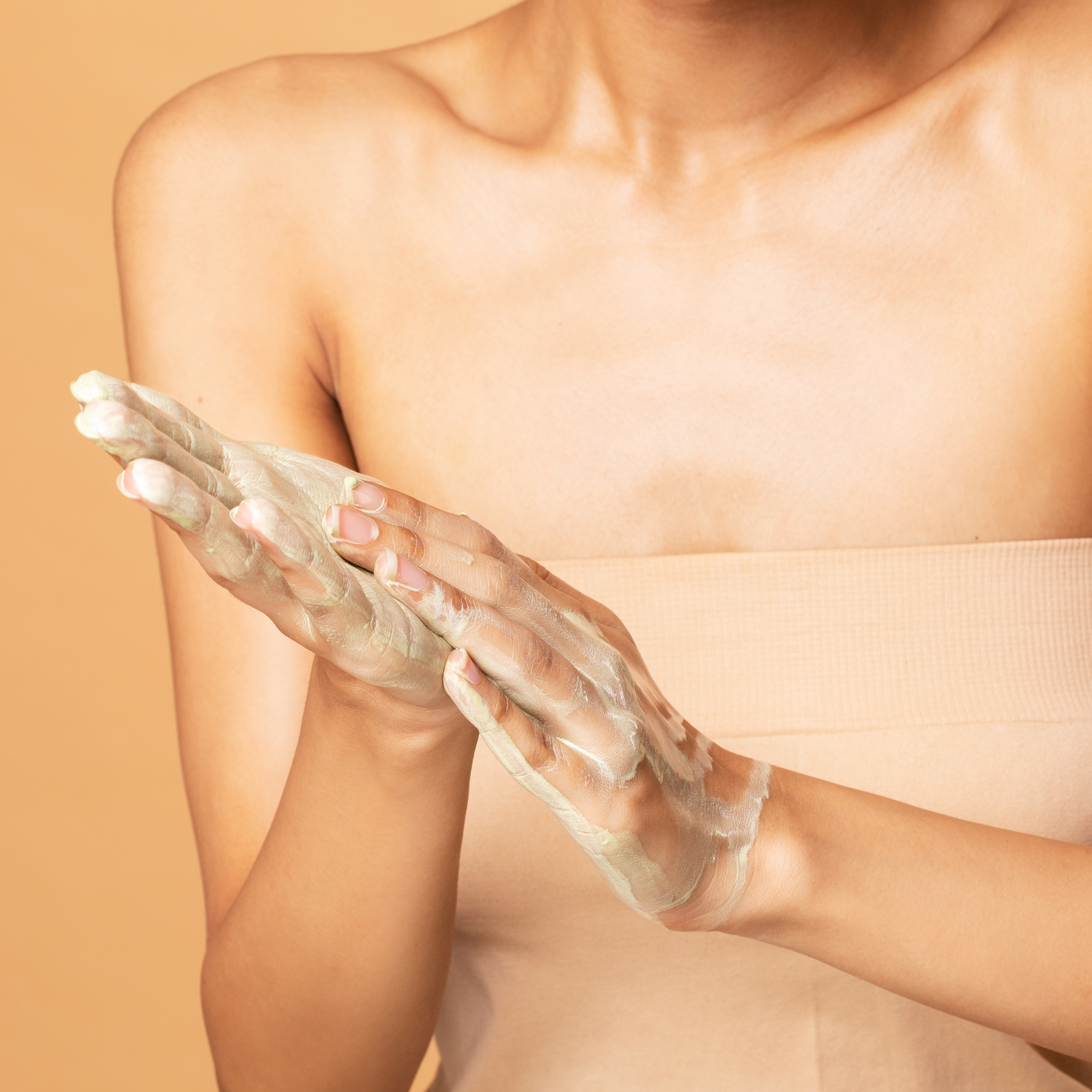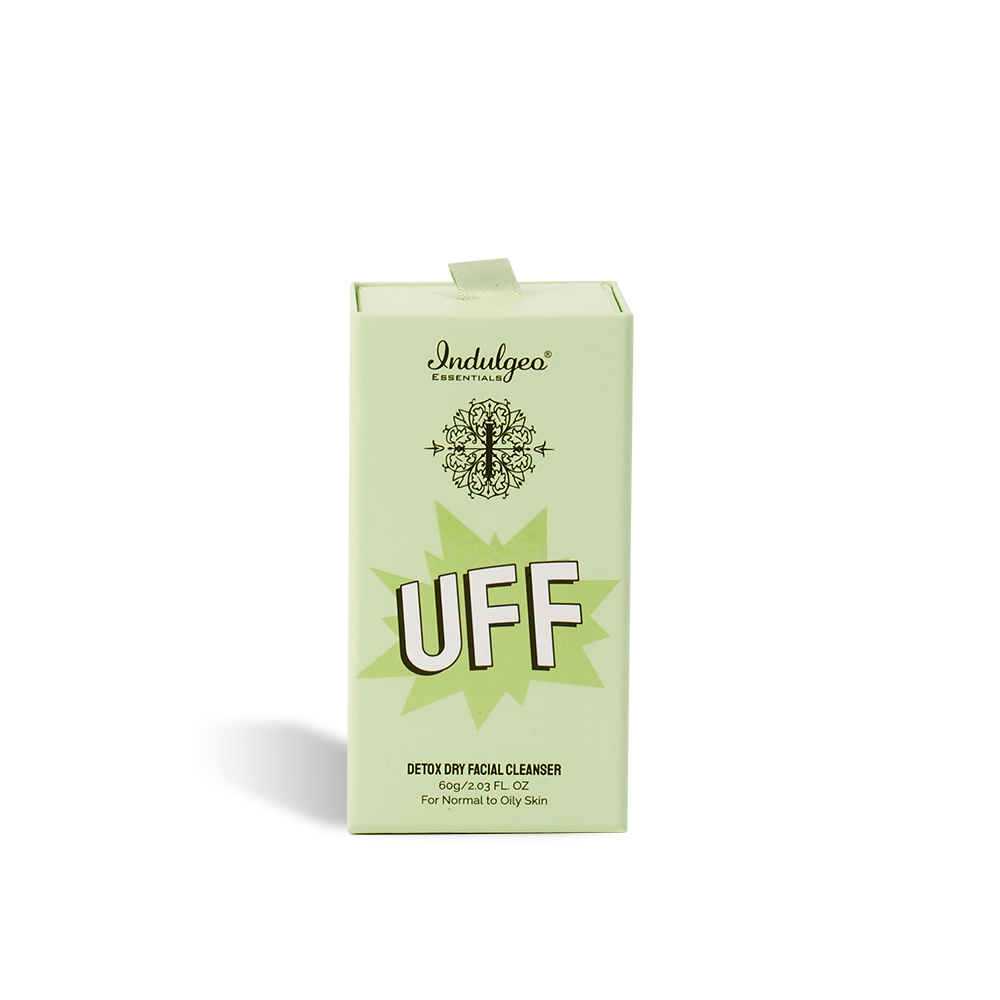 Read More
How to use
On a wet face, gently rub the product in circular motions to form a mild creamy lather. Let your skin sink in all the goodness of the ingredients.Rinse the product off and apply your favorite Indulgeo Essentials face oil for glowing and hydrated skin. Coa
Features
Brand:
Indulgeo Essentials
Key Ingredients:
Corn starch

Grapefruit Seed Extract

Rice Bran Extract
For Concerns:
Deep Cleanse

Purifies skin

Skin Detoxification
Ingredients:
Corn Starch, Rice Bran Extract, Grapefruit Seed Extract, Sweet Orange Peel Powder, Almond Seed Powder,Yoghurt Extracts, Matcha Powder, Aloe Vera Leaf Powder , Neem Leaf Powder, Dehydrated Hemp Cake Powder, Hibiscus Powder, D PANTHENOL-plant derived, Sodiu
kindcode
Confused about what's kind on, in and around your body? We're here to decode some key terms and what it means when a brand declares them! If a brand doesn't have at least one of these codes, they won't be listed on kindlife! Know more
:
Additional Information
Expiry or Best Before:
18
months after manufacture date
kindcode
Cruelty Free

"Cruelty-Free" is a PETA provided certification to brands which do not conduct product tests on animals prior to sales. Considering the vulnerability of animals and their lack of ability to give consent doesn't make it ethical to test products meant for human use on them. Hence products that are natural or plant based could be cruelty free only if they have not been tested on animals.

Toxin Free

Toxin free products indicate that the ingredients used in it do not exist in amounts that are known or proven to be harmful and affect the consumer negatively. It does not always mean that there are no chemicals in it.

Indulgeo Essentials
Indulgeo Essentials is a profound endeavor using the wisdom of nature to deliver custom made concoctions suitable for a plethora of skin & hair types and concerns Their brand name originated from Latin- meaning "to gratify oneself & indulge in" They bring to you truly natural essential oil blends
Shop the Brand