Delivery
Your box of happiness will be shipped in 2-4 business days.
Cash on delivery available order above ₹499
100% recyclable packaging
10 Days Return Policy
Use code FIT500 & get extra Rs.500 off on orders above Rs.1,499
Use code KIND200 & get Rs.200 off on orders above Rs.1,299.
Details
WHAT IS BEAUTIFUL NUTRIFUL? Dr. Morepen presents Beautiful Nutriful, which assists you in having younger and naturally glowing skin with clinically proven Marine Based Collagen protein along with the enrichment of Vitamin C and Hyaluronic acid to help deeply rejuvenate the skin cells. HOW IT WORKS? Marine based collagen brings back collagen and elastin that your skin lost a long time back. It contains 8 out of 9 Essential Amino Acids - the building blocks to flawless skin. Boosts collagen and retains its elasticity resulting in toned up skin & reduced signs of skin ageing - fine lines & wrinkles. It works wonders for skin hydration to help reduce dullness, dryness, & visible pores. Supports protecting the skin from free radicals, & regenerates the skin cell repairing process. WHY DO YOU NEED IT? If you want to take care of wrinkles, lifeless, sagging, or dry skin, marine collagen is your best bet as it absorbs and reacts 1.5 times faster than any other type of collagen. Features hydrolyzed collagen protein ie. broken into tiny particles for easy digestion. Comes in a Delicious Chocolate Flavor that can be taken in smoothies and water.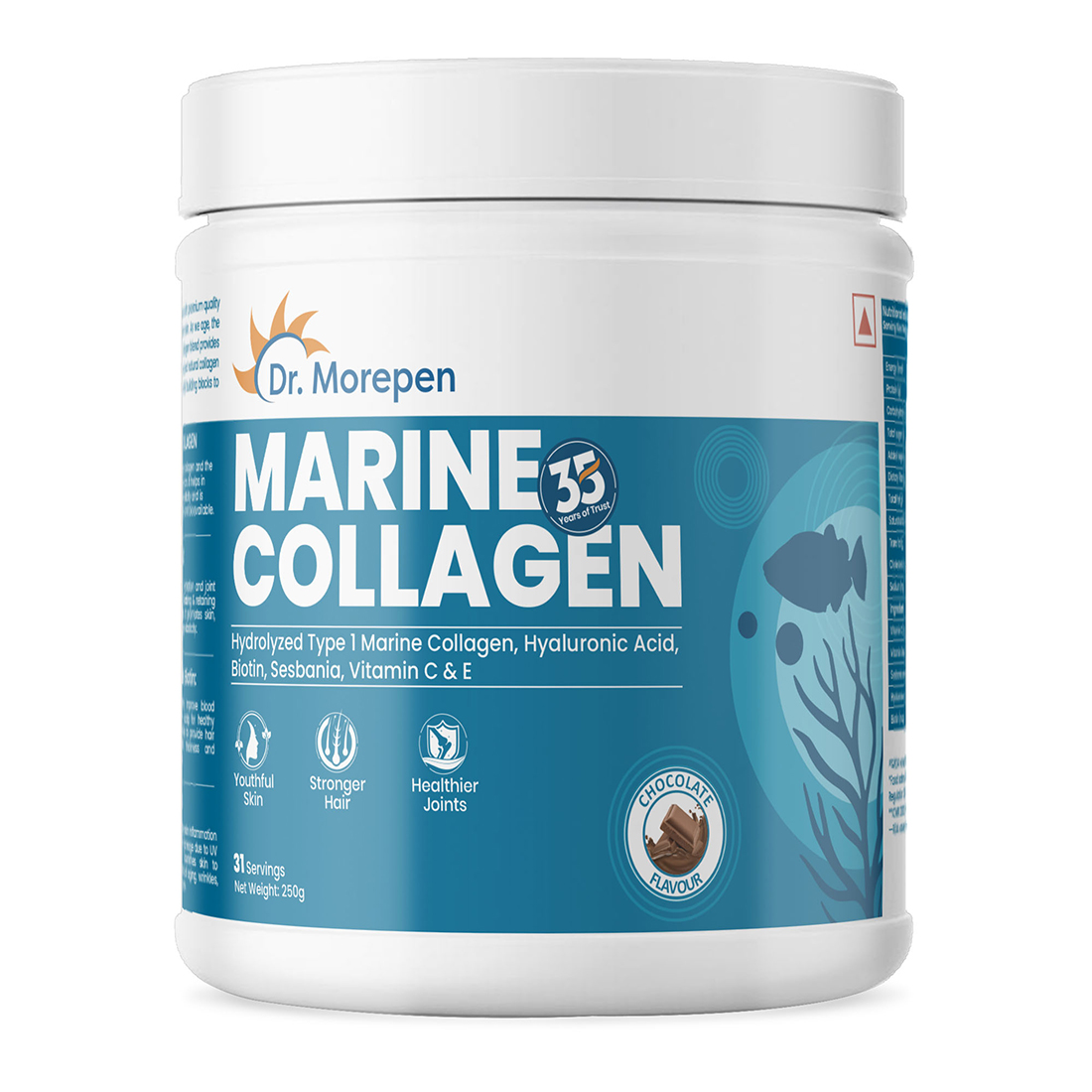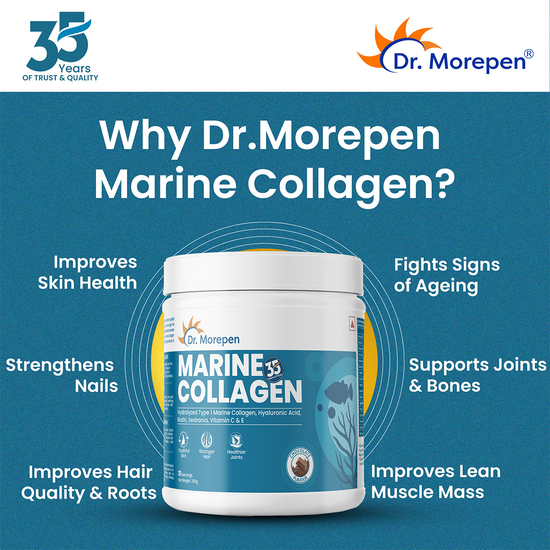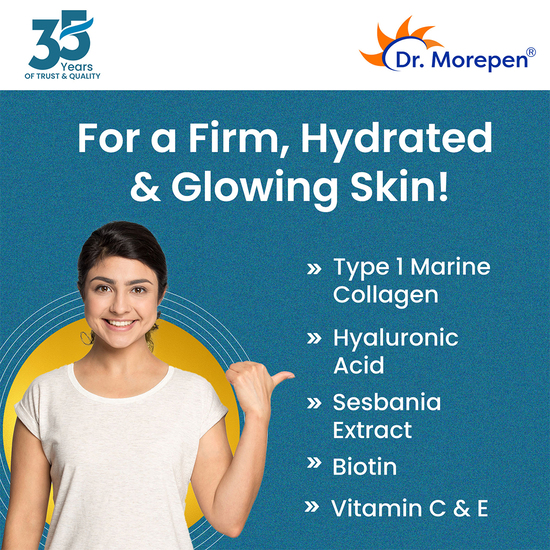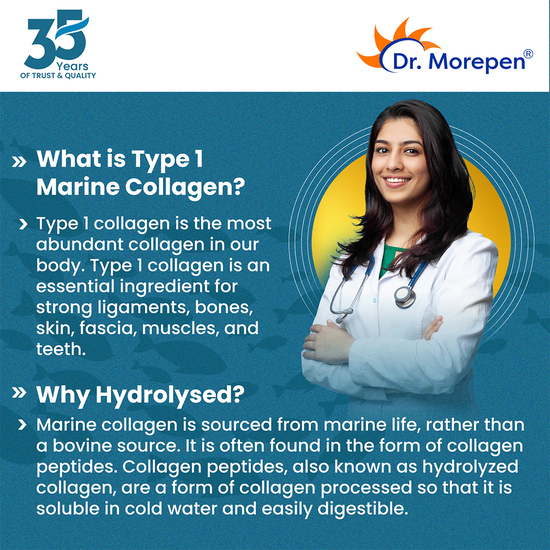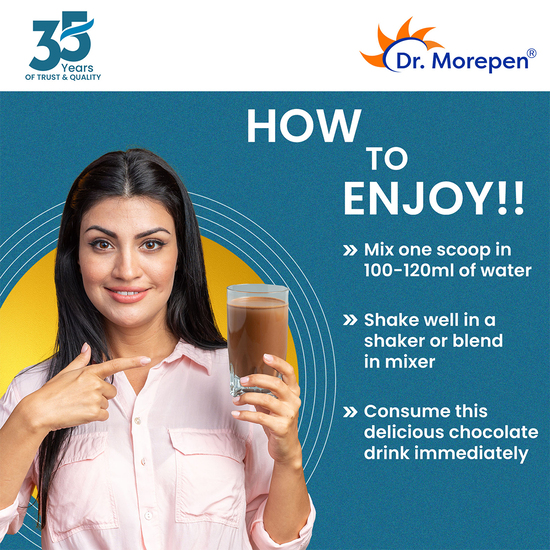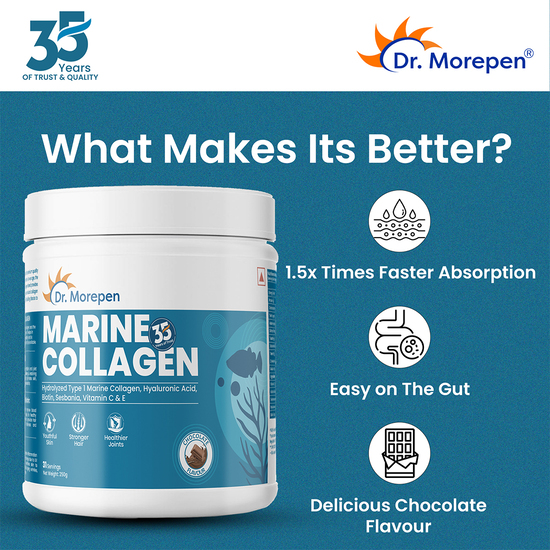 Read More
How to use
Mix 1 scoop in 100ml of water. Stir well & consume daily!
Features
For Concerns:
Bones & Joints Health

Digestive Wellness
kindcode
Confused about what's kind on, in and around your body? We're here to decode some key terms and what it means when a brand declares them! If a brand doesn't have at least one of these codes, they won't be listed on kindlife! Know more
:
kindcode
Toxin Free

Toxin free products indicate that the ingredients used in it do not exist in amounts that are known or proven to be harmful and affect the consumer negatively. It does not always mean that there are no chemicals in it.

Dr. Morepen
As a company Dr Morepen has always upheld the motto Health in Your Own Hands which encourages taking responsibility for your own mental and physical health To assist you in becoming a better version of yourself they have created a wide range of products including health supplements sports
Shop the Brand