Delivery
Your box of happiness will be shipped in 2-4 business days.
Cash on delivery available order above ₹499
100% recyclable packaging
10 Days Return Policy
Use code FIT500 & get extra Rs.500 off on orders above Rs.1,499
Use code KIND200 & get Rs.200 off on orders above Rs.1,299.
Details
Swisse Beauty Vegan Collagen Builder is a premium quality formulation with Vitamin C to support skin repair, regeneration and natural collagen formation. Collagen is a major protein found in the dermis of the skin, where the first signs of aging occur.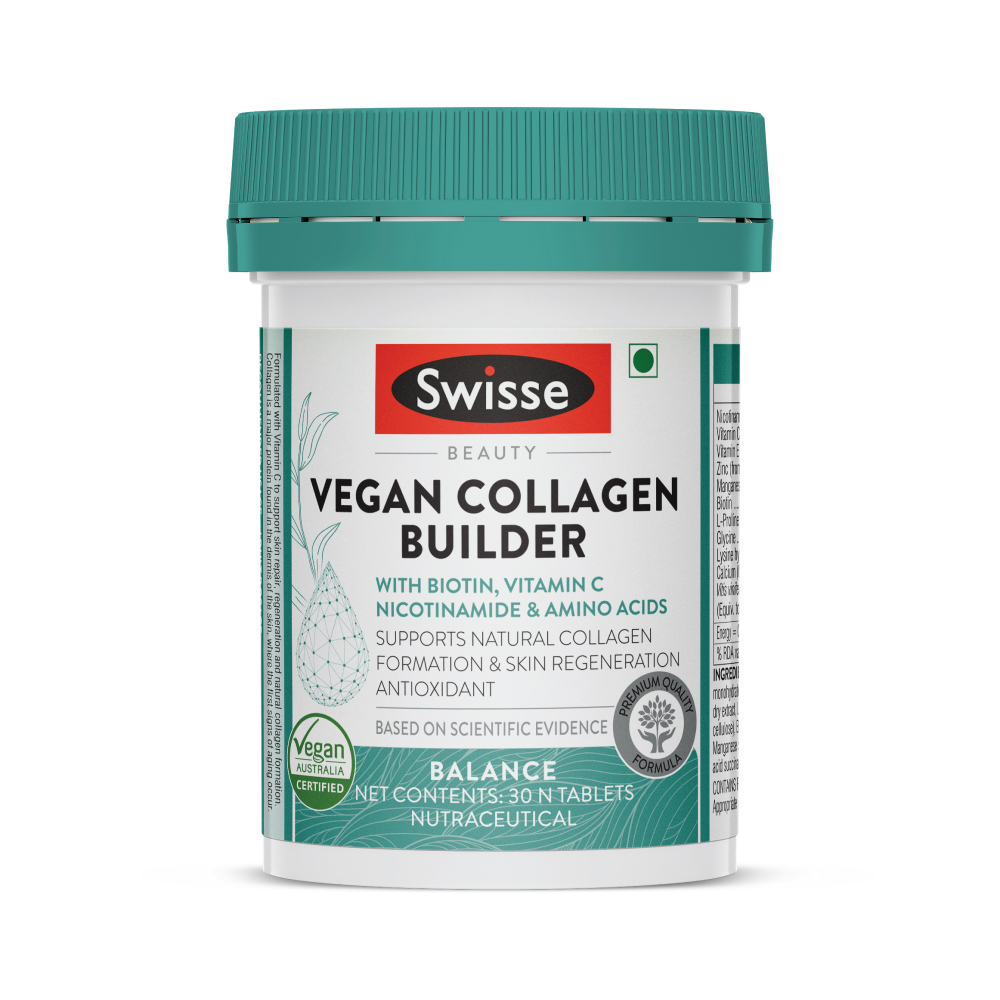 Read More
Featured Ingredient
10
Vitamin c
Fair
x
Data score key
Best
Good
Fair
Average
Limited
Data availability rating: the scope of ingredient safety data contains in the skin deep, and the number of studies available In the open scientific literature.
Ascorbic acid (Vitamin C) is a naturally occurring antioxidant.
How to use
Two tablets daily, during or immediately after a meal, or as recommended by a healthcare professional
Features
KLEEN Score
The KLEEN ingredient (Kind, Low-risk, Eco-friendly, Ethical, Nurturing) Score, rates products from 1 to 10. It reflects known and suspected hazards linked to the ingredients that make up the product. A product's hazard score is not just an average of the ingredients' hazard scores. It is calculated using a weight-of-evidence approach that factors in all of the hazards or health impacts associated with the ingredients. It also incorporates aspects like the brands transparency in divulging accurately the ingredients used, any third party certifications the products might have etc.
:
8
Key Ingredients:
Biotin

Nicotinamide

Vitamin C
For Concerns:
Bones & Joints Health

Diabetes

Digestive Wellness

General Immunity

General Wellness

Heart Health

Weight Management
Ingredients:
Biotin, Vitamin C, Nicotinamide, Amino Acids
kindcode
Confused about what's kind on, in and around your body? We're here to decode some key terms and what it means when a brand declares them! If a brand doesn't have at least one of these codes, they won't be listed on kindlife! Know more
:
Additional Information
Expiry or Best Before Date:
01-07-2023
kindcode
Toxin Free

Toxin free products indicate that the ingredients used in it do not exist in amounts that are known or proven to be harmful and affect the consumer negatively. It does not always mean that there are no chemicals in it.
Swisse
Swisse delights in being able to bring premium quality naturally based scientifically validated products to their customers Today the Swisse product range stretches from top selling men's and women's multivitamins and dietary supplements to sports nutrition skincare and functional foods
Shop the Brand